Introduction
There have been so many times when we get stuck in terms of deciding on an outfit to go out or to a movie date, or something casual for college. We just can`t seem to find what we have to wear and eventually ends up buying loads of clothes to stack up against our wardrobe. Well, it just doesn`t make sense to buy new clothes all the time and if we are buying something then we should look for pieces those work in both situations, for partying and for a casual day. Denim is one such versatile piece of fabric that can be styled and worn in several different ways (denim dress).
For all occasions: Denim dress
Denim is very stylish and a very versatile item, whether it is a denim shirt, a denim jacket, or denim jeans, it can work in every situation.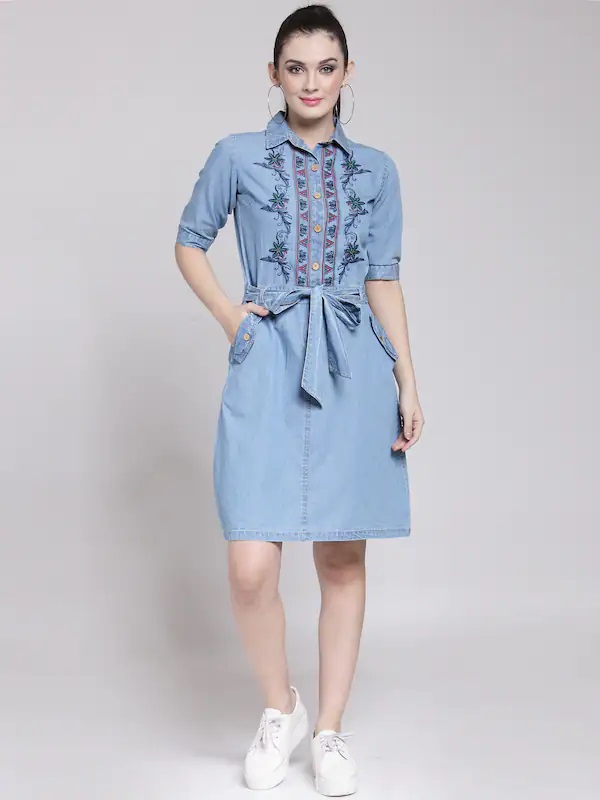 You can jazz up your plain denim garment to wear it to a party or even wear it as is to keep it simple for a casual day. Denim jeans are one such common, most famous piece of garment sold worldwide, in fact, in old times people used to spend their annual incomes to buy a good pair of jeans. Well, just like jeans, girls can wear denim dresses everywhere. It should be a staple in your wardrobe, there are many silhouettes and styles you can go for according to your preference and requirement.
Also visit: Magic Aesthetic: Add some style and magic
Denim dress 101:
A denim dress would typically come in indigo blue color which is a standard color of it. However, denim fabric comes in various colors too such as pink, green, brown, and whatnot. Pro tip: if you are bored of your mundane denim dress, you can pour some acid wash on the cloth and DIY your dress with a faded effect to add in a little edge.  You must have seen the strappy body-hugging denim dress, a fit, and flare dress, an A-line dress, denim shirt dress, denim long dresses most commonly in the stores. Although the styles keep changing so you can also find a dress with puffed sleeves, belts, cottagecore inspired, oversized and loose, etc. these denim dresses are easily available and very affordable to buy.  For more updates, visit: https://zoomlocalnews.com/
To jazz up your look, you can try pairing your garments with certain things like accessories, footwear, hairstyles, etc. If you haven`t already try layering garments like you can wear a plain white shirt beneath a denim dress or a bralette on top of a dress. You can mix different fabrics to create a dress, patchwork looks cool on denim too. Carry a statement bag, wear colorful footwear or tie your hair in a tidy bun to complement that dress. You can step up your styling game in many ways and create your ensemble. The best part about denim is that it is so simple of fabric that it can pair with a lot of things and helps you express your creativity with it. There are also numerous DIYs that you can try to get a funky-looking denim dresses.
Magic Aesthetic | Elise Morgan | Spencer William Morgan
Glaucous Aesthetic : Beautiful creation of nature