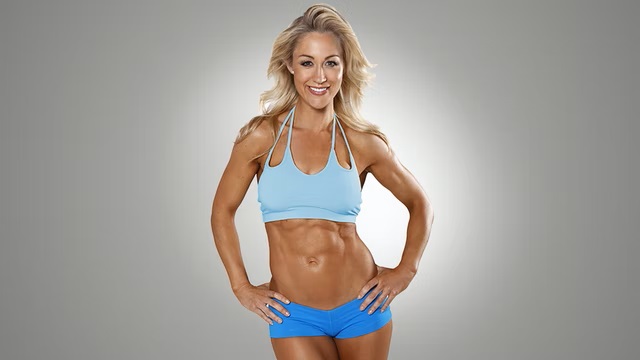 Caroline Pearce is an English athlete, sports host, model, published author, and is the presenter for BT Sport's UFC: Beyond The Octagon and reporter for Fox Sports and UFC Fight Pass. She played the character 'Ice'in Sky One's version of Gladiators. Caroline has competed for Great Britain in two sports, heptathlon and bobsleigh and has 2 degrees from Loughborough University. She is a well-known name in the sports industry and has several years of working experience with multiple channels and media houses.
Early Life: Caroline Pearce
Caroline Pearce was born on 1st September 1981 in Cambridge, England. She was born in a Christian family but has not shared much about her parents, family, and background but her family is settled in London, England. She was always athletic as a child and starting participating in athletics even before her teens. Caroline has not shared much about her early education but is believed to have completed her high school education from a local school in England. She has also pursued a college education and has procured two degrees, Bachelor's and Master's of Science in exercise physiology and nutrition, and from Loughborough University in 2004. Her age is 41 years.
Career: Caroline Pearce
Caroline Pearce started her career as an athlete at a very early age and by the age of 15, she started representing England at the World Pentathlon Championship. In 2004, she competed in the heptathlon event at the 2004 European Cup and also reached the finals. The following year, she also participated as Bobsledder in the 2005 World Bobsleigh Championship. She was also a part of her college's heptathlon, bobsleigh, and athletics team.
In 2008, she started working as a presenter at The Active channel and worked on shows like The Rugby expo, The fight factory, etc. she left to work in 2009 and joined as a presenter of Smoked out motoring at Nostrairway Media house. She only worked there for a short while alongside working as a presenter at MSN for The Paris Motor Show.
Reporting Career: Caroline Pearce
In 2011, she started working at "The world's strongest man" for IMG media and as a health and fitness expert on the ITV channel and Argos TV. A couple of years later, she started working as a fitness Expert on Argos tv-Home retail group and also as a Presenter at the Community channel in 2013. She also got the job as a presenter at BT sports network where she reports various UFC events. Meanwhile, in 2012, she also started working as a commentator at Euro sport. In 2014, she became a correspondent for UFC for events like Fight pass and in 2015, she started working with Fox sports network as well covering various UFC events (Caroline Pearce).
She got involved in more mixed martial arts events and in 2018, she became the reporter for Professional Fighter's League. She is also known to be an author and wrote her first and only published book titled "Human Kinetics: The science of Sport" in 2011. Currently, she works as a fitness trainer on FitOn where she started working in 2019, and as a presenter and Host on BT sports network where she presents the show UFC: Beyond the Octagon. She also works as a fitness content creator for New Shoot pictures since 2012 and as a spokesperson and trainer at Performance health systems since 2006.
Social Media
Caroline has over 86.4k followers on her Instagram account and around 275k followers on her Facebook page. She is also known to be on Twitter since 2011 and currently has 30k followers. She has also maintained her LinkedIn profile up to date.
Net Worth
Details regarding her net worth have not yet surfaced on the Internet. But it is estimated that she might have earned good amount of money from her athletic and reporting career. She has earened good salaries from both her careers and therefore leads a very decent life in terms of money.
Also Read: Safari outfits | Aquarius and Cancer Friendship | Date night fashion