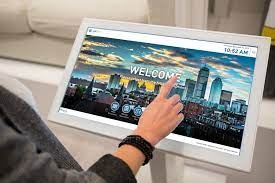 If you're in a workplace where people often squabble over which desk is free, desk booking software is an excellent choice. This software reduces friction and conflict at work, while eliminating wasted time spent searching for a quiet place to work. It works on a desktop or laptop, so no one needs to use their smartphone or tablet to make reservations. It also makes it easy to see if another desk is available without interrupting your work.
Flowscape Desk Management
With Flowscape Desk Management software, you can manage your company's office space more effectively and manage your employees. Flowscape allows you to make desk reservations, manage your staff, and even create zones to maintain social distance compliance. You can also book certain seats, monitor employee availability, and even add kiosks or meeting rooms for your staff. You can even use Flowscape to help manage visitors and make your workspace a more safe and productive place to work.
Flowscape Desk Management software provides a desktop and mobile application to help you manage your desks. It offers a user-friendly interface and enables desk booking with ease. It is a powerful workspace management solution that lets you view available desks in 3D or 2D and automatically releases them to other users. Users can also see the availability of the workspace and how many other desks are booked nearby.
Roomzilla
Roomzilla is a simple, intuitive room booking software. It is easy to implement and manage, with implementation taking no longer than five minutes. The software supports mobile and multi-device compatibility and was created with the "new normal" in mind. It works across multiple devices and room displays, and can be accessed from any location. Users can book desks whenever they want, and can easily cancel a reservation as needed. It is also compatible with Microsoft 365 and Google calendars, ensuring that users are always aware of the availability of available desks.
In addition to managing desks and meeting rooms, Roomzilla also allows workspace administrators to manage electronic equipment and items. The software also offers filtered search functionality and contact-free email check-in. Roomzilla can integrate with Microsoft Office 365 and Google Calendar, and workspace administrators can configure resources and approve or reject reservations. The system is compatible with Google Calendar and can be accessed from mobile devices and computers alike. To get started, sign up for a free account today!
SharingCloud Instant Flex
In addition to flexible workspaces and hot-desking, SharingCloud Instant Flex is an online booking software that can manage desks for various scenarios. Users can book a desk through a web portal, a mobile app, or by scanning a QR code integrated with BoxPad hardware. Some platforms include infrared presence sensors to confirm a person's identity. There is also an option to use an RFID/NFC reader to authenticate the booking. When a person does not show up for the booking, the desk is released for other users to use.
In addition to providing desk booking software, SharingCloud also offers videoconferencing, room reservations, and other services for flexible workspaces. Its features can be accessed through a web portal, a mobile application, or through presence sensors that connect to the Sigfox network. Users can also use an RFID/NFC lector to authenticate their reservations, and use the no-presentation feature to unlock desks. The software is flexible and can be used by both individual employees and teams.
Teem
A recent study of 9,000 workers in the world's eight largest economies shows that one of the top reasons why people leave their jobs is lack of flexibility. Desk hoteling can help break down these barriers and boost workplace productivity. This desk booking software can help you understand which desks are used most and which ones are underutilized. In addition, Teem also lets you view utilization trends and make adjustments accordingly. This means that you can better allocate your workspace to maximize productivity.
With the help of Teem's desk booking software, you can efficiently manage workspace capacity and minimize the number of physical touchpoints within your office. Whether you're working from your home or from a virtual office, you can easily and quickly reserve a desk that fits your needs. A simple area display also helps you understand if a desk is booked or available. Having real-time information about availability of desks will ensure that you can make the most of your workday.
If you are looking for some news about riley reid and rudy gobert visit this website usglobalworld.com